FALCON ENDPOINT

PROTECTION PREMIUM
Take breach-stopping power to the next level with extended endpoint visibility into accounts, assets and applications usage.
Watch Demo
Falcon Premium

Full endpoint protection with threat hunting and expanded visibility

Learn more about CrowdStrike Services
Flexible Bundles:
Included Component
Elective Component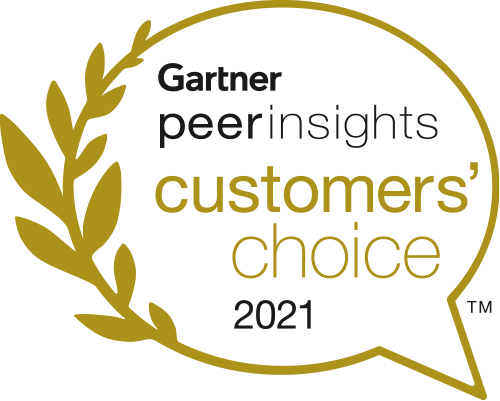 Recognized by Gartner Peer Insights CrowdStrike named a Customers' Choice vendor in the 2021 Gartner Peer Insights Report for EPP. Learn More
REAP THE BENEFITS OF CROWDSTRIKE'S
FALCON ENDPOINT
PROTECTION PREMIUM
CrowdStrike Falcon® Endpoint Protection Premium is the industry's only unified solution combining next-gen AV (NGAV), endpoint detection and response (EDR), managed threat hunting, integrated threat intelligence and IT hygiene.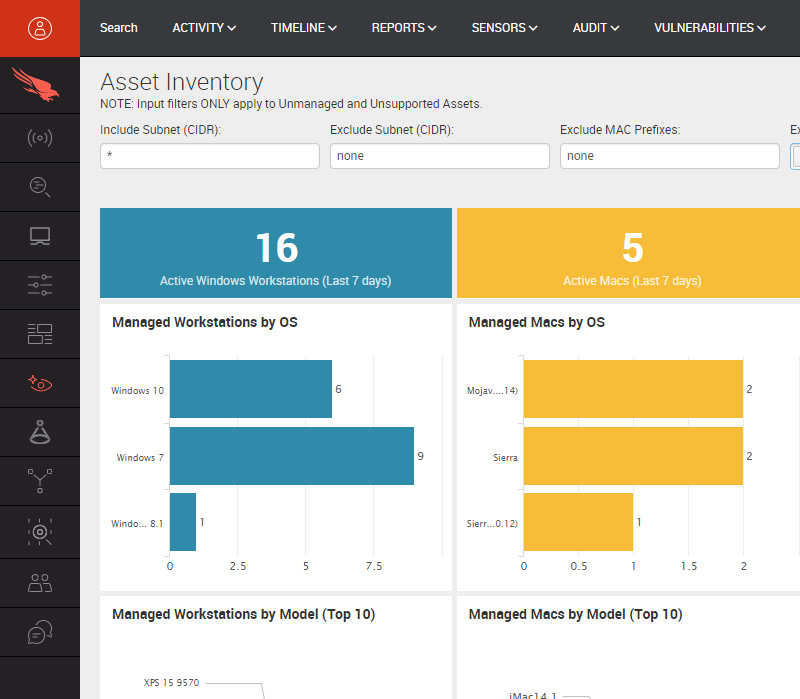 TAKE BREACH PROTECTION TO THE NEXT LEVEL
Visibility on assets, applications and user accounts
→
In addition to stopping breaches, Falcon Endpoint Protection Premium allows you to:


Prepare before an attack occurs by adding the visibility you need to reveal areas of exposure — it identifies unprotected and rogue systems and monitors what applications and user accounts are being used in your environment




Validate your readiness with health checks, proactive configuration and quarterly briefings, and security recommendations from CrowdStrike security experts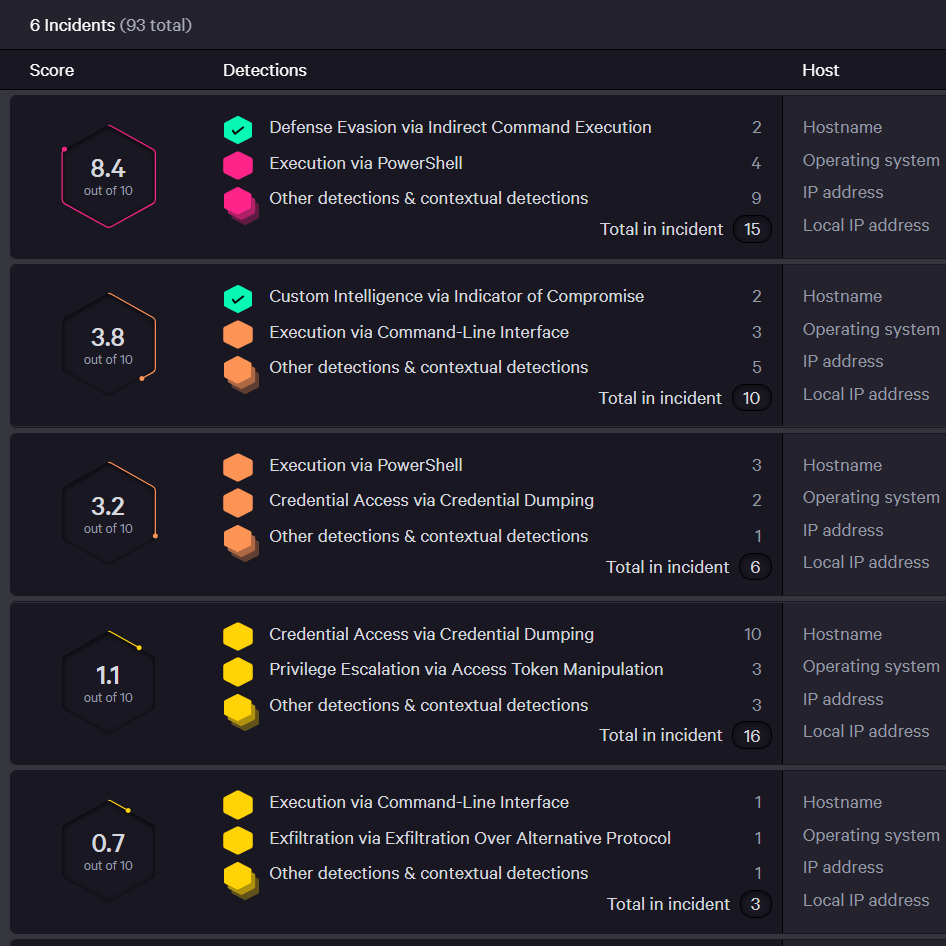 UNMATCHED PROTECTION AND VISIBILITY
Unified dashboards provide an instant view of your endpoint security situation - what's happening, who is at risk, etc
→
SIMPLICITY, EFFICIENCY AND COMPLETENESS
Tens of thousands of endpoints
operational in hours
→


Includes all the components needed to anticipate, prevent, detect and respond to breaches




Deploys in minutes and is immediately operational




Virtually zero impact on endpoints




Easy upgrade from an existing CrowdStrike solution and add capabilities delivered by the CrowdStrike Falcon Platform without requiring any deployment




Automatically keeps up to date with SaaS delivery




Adapts to all needs, growth and security status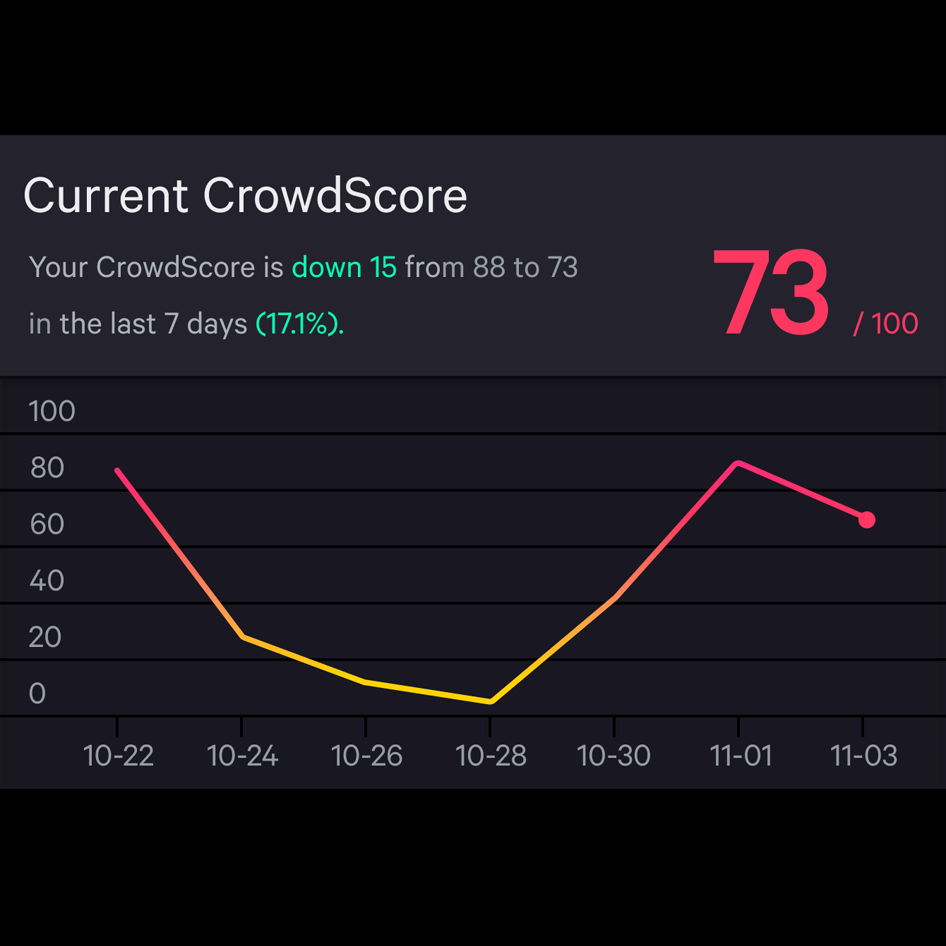 See the Big Picture with CrowdScore


CrowdScore provides a simple metric to help executives measure and understand the current threat level of the organization, and how it's changing over time.




With CrowdScore, executives can make fast decisions and act to coordinate optimal response.
Reduces Operational
Costs

Reduces Endpoint
Costs

Reduces
Risks

Improves Endpoint Performance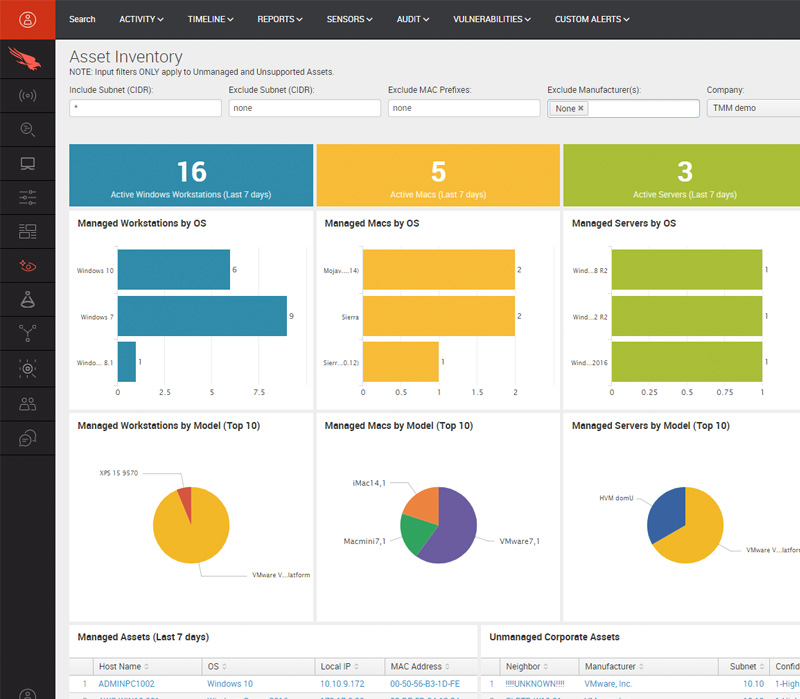 IT HYGIENE
←
Detailed visibility over applications, assets and user accounts


Identifies rogue computers instantly




Sees who and what is on your network at all times




Finds unprotected systems




Sees where and how user accounts are being used, including privileged accounts




Gains real-time and historical inventory of application usage in your environment
AI POWERED NGAV
←
AI powered Machine Learning and IOAs protect against attacks


Protects against known and unknown malware, and malware-free or fileless attacks




Combines the best and latest prevention technologies such as machine learning, AI, indicators of attack (IOAs) and more




Eliminates ransomware




Covers the gaps left by legacy AV




Fully protects endpoints online and offline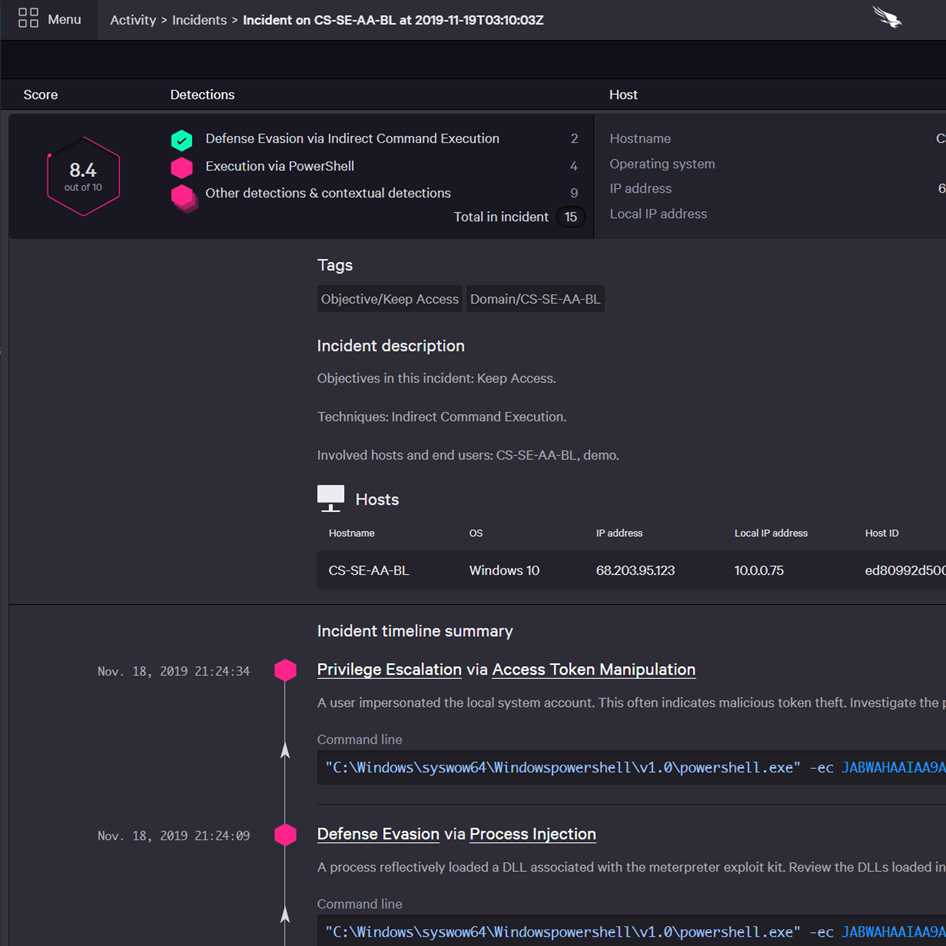 EDR
←
Intelligent EDR automatically detects attacks and threat intel integration provides attribution


Continuous raw event recording provides unparalleled visibility




Full endpoint activity details enable proactive and managed threat hunting and forensic investigations




Intelligent EDR automatically detects and intelligently prioritizes malicious and attacker activity, reducing alert fatigue by 90% or more




Unravels entire attack in the easy-to-use Incident Workbench enriched with context and threat intelligence data




Provides powerful response action to contain and investigate compromised systems, including on-the-fly remote access to endpoints to take immediate action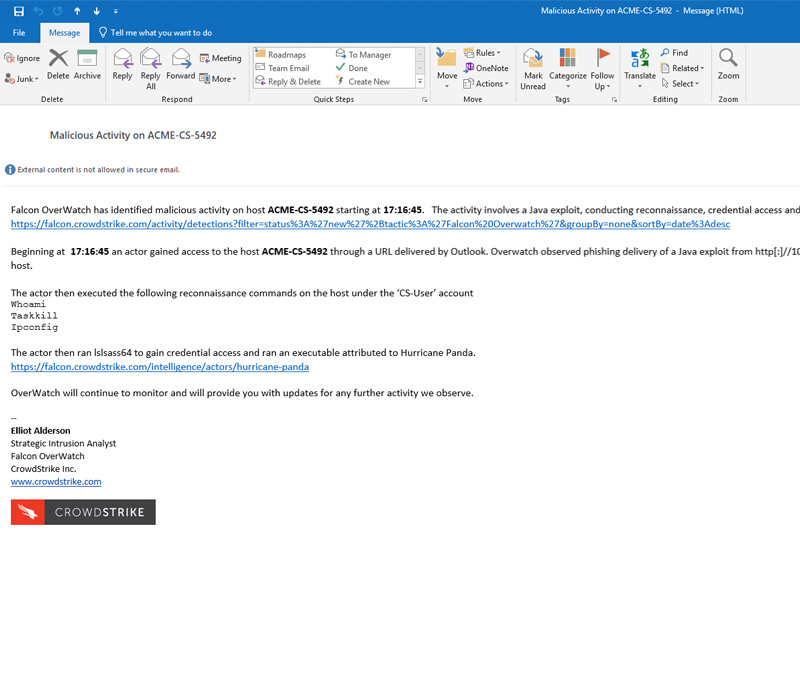 MANAGED THREAT HUNTING
←
An additional layer of monitoring and analysis to ensure that threats never get missed
Elevate your security efficiency with the expertise, assistance and knowledge with CrowdStrike's elite team of security experts at your side at all times providing:


Proactively hunts for threats 24/7, eliminating false negatives




Uniquely pinpoints the most urgent threats in your environment and resolves false positives




Threat hunters partner with your security operations team to provide clarity on an attack and guidance on what to do next.
DEVICE CONTROL
←
Detailed visibility on USB devices utilization
Reduces the risks associated with USB devices by providing:


Granular policy enforcement to ensure control over USB devices used in the environment




Effortless visibility across USB device usage, including what files are being copied to USB storage




Insightful dashboards automatically provide detailed information such as class, vendor, product, serial number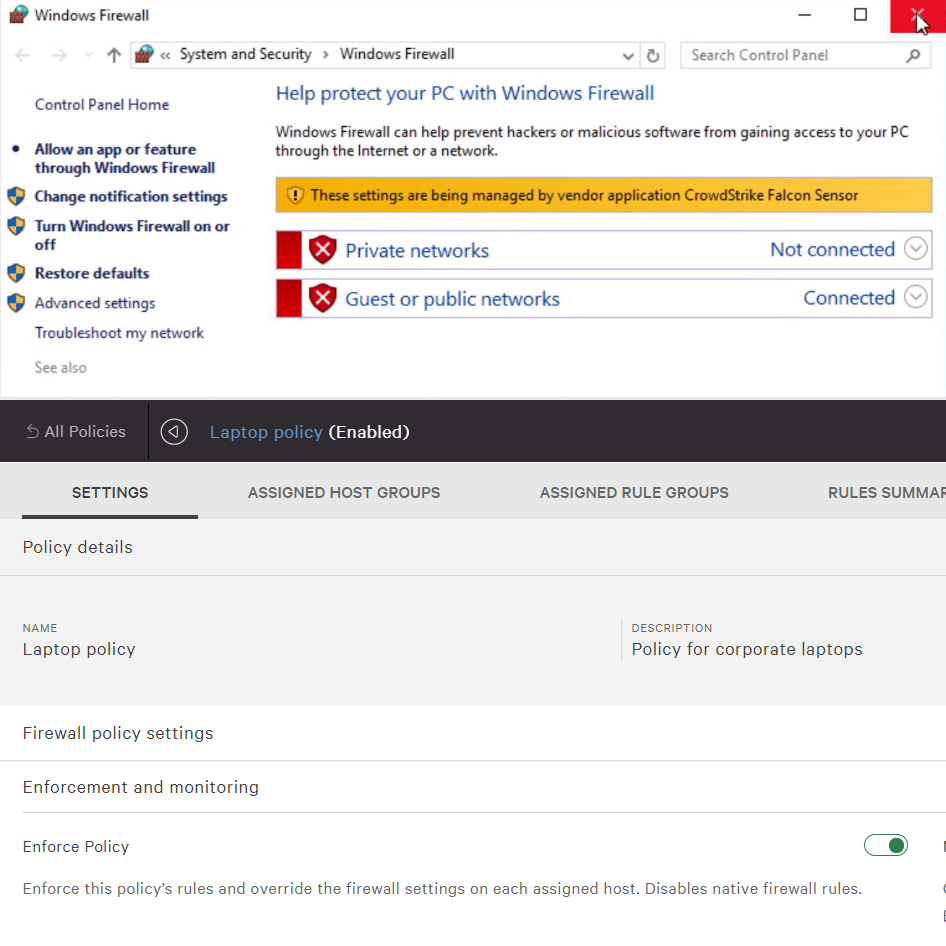 FIREWALL MANAGEMENT
←
Host firewall management made easy


Easily create, enforce and maintain firewall rules and policies




Simplify operations by using the same lightweight Falcon agent, management console and cloud-native architecture




Automatically identify and view specific activities, potential threats and network anomalies
INTEGRATED THREAT INTELLIGENCE
←
Fully understand the threats in your environment and what to do about them
Malware research and analysis at your fingertips:


Eliminate guesswork and uncertainty to respond to threats decisively




Automatically determine the scope and impact of threats found in your environment




Easily prioritize responses with threat severity assessment




Immediately get recovery steps and resolve incidents with in-depth threat analysis




Find out if you are targeted, who is targeting you and how to prepare and get ahead
THE POWER OF THE CLOUD
←
Tens of thousands of endpoints operational in hours
CrowdStrike's cloud-native platform eliminates complexity and simplifies endpoint security operations to drive down operational cost
Reduced cost and complexity: Operates without the need for constant signature updates, on-premises management infrastructure or complex integrations.

Protection of the crowd: Allows everyone to be protected against a threat encountered in just one environment. Automatically scales to adapt to growth and changing needs.

Restores endpoint performance: Installation and day-to-day operations bear zero impact on endpoints — even when analyzing, searching and investigating.

Works on day one: Deploys and is operational in minutes.
INTERESTED?
A CrowdStrike security expert is standing by to offer information, advice, or help with your purchase.
Request Info