The Forrester Wave™: External Threat Intelligence Services, Q1 2021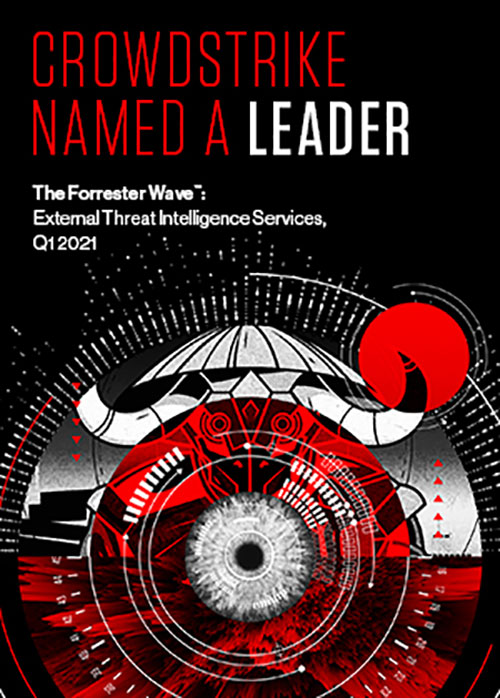 CrowdStrike named a "Leader" in the Forrester Wave with the top ranking in Market Presence category and highest score possible in 17 criteria
The CrowdStrike Falcon® Intelligence® product suite was named a Leader in The Forrester Wave™: External Threat Intelligence Services, Q1 2021. In addition, CrowdStrike received the highest score possible in 17 criteria, and the top ranking in the Market Presence category — demonstrating to us that more customers trust CrowdStrike with their threat intelligence than any other vendor. Forrester states in its report that organizations "should consider CrowdStrike even if they're not using the vendor's EDR tools, especially if state-nexus threats are in their landscape."
Forrester analysts evaluated threat intelligence vendors against 26 criteria grouped into three high-level categories: Current Offering, which assesses intelligence requirements, raw intelligence collection, intelligence analysis, dissemination, cyber threat intelligence and more; Strategy, which evaluates product vision, strategic partners, commercial model, and supporting products and services; and Market Presence, which reflects the vendor's number of clients and product line revenue. Forrester's evaluation of threat intelligence providers offers valuable insights that help security and risk professionals select the best solution to fit their needs.
Download this report to learn:
 Why CrowdStrike's threat intelligence customers "felt like CrowdStrike was a 'true partner of their security organization'"

What differentiates CrowdStrike in the threat intelligence market and why it received the highest possible scores in 17 criteria
For technical information on installation, policy configuration and more, please visit the CrowdStrike Tech Center.
Visit the Tech Center