Coventry University Case Study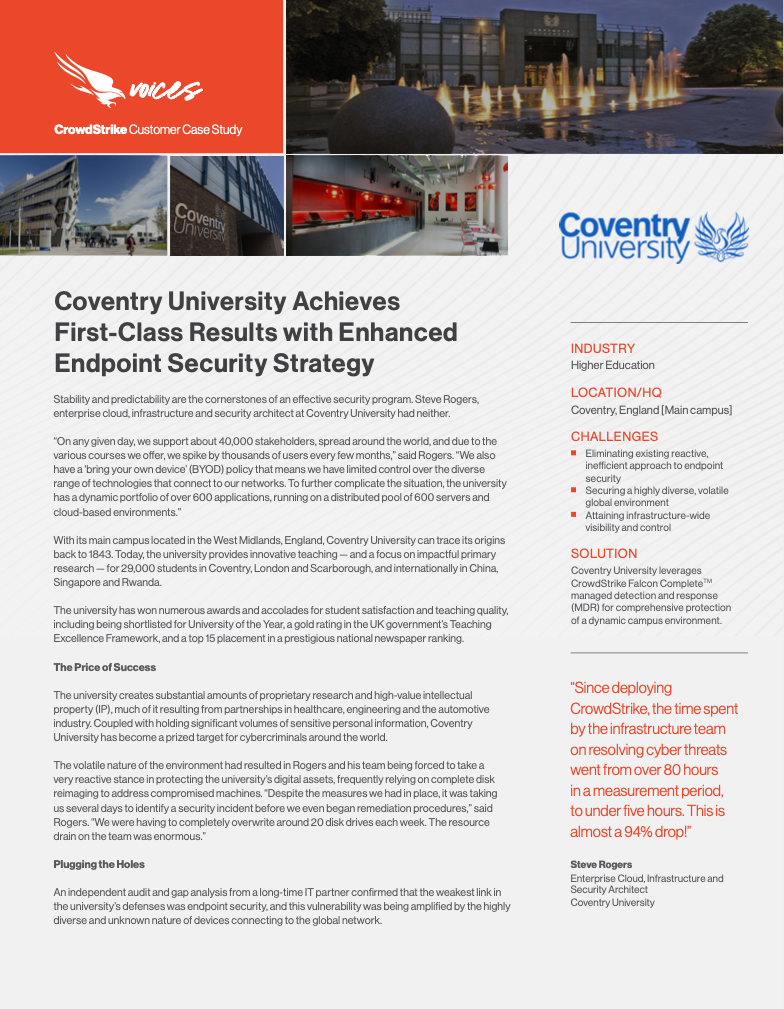 With its main campus located in the West Midlands, England, Coventry University can trace its origins back to 1843. Today, the university provides innovative teaching — and a focus on impactful primary research — for 29,000 students in Coventry, London and Scarborough, and internationally in China, Singapore and Rwanda.
"On any given day, we support about 40,000 stakeholders, spread around the world, and due to the various courses we offer, we spike by thousands of users every few months," said Rogers. "We also have a 'bring your own device' (BYOD) policy that means we have limited control over the diverse range of technologies that connect to our networks. To further complicate the situation, the university has a dynamic portfolio of over 600 applications, running on a distributed pool of 600 servers and cloud-based environments."
"Since deploying CrowdStrike, the time spent by the infrastructure team on resolving cyber threats went from over 80 hours in a measurement period, to under five hours. This is almost a 94% drop!"
Steve Rogers
Enterprise Cloud, Infrastructure and Security Architect, Coventry University
For technical information on installation, policy configuration and more, please visit the CrowdStrike Tech Center.
Visit the Tech Center