Falcon Spotlight: Scanless Vulnerability Management
Falcon Spotlight provides real-time visibility across your enterprise — giving you relevant and timely information you need to reduce your exposure to attacks with zero impact on your endpoints.
Download Data Sheet
Benefits
Why Choose Falcon Spotlight
Unified Threat and Vulnerability Management

As part of an integrated platform that prevents exploits and post-exploit activity, Falcon Spotlight™ allows you to research common vulnerabilities and exposures (CVEs) to examine threat actor profiles and targets.

Scanless and Fast

Spotlight utilizes scanless technology, delivering an always-on, automated vulnerability management solution with prioritized data in real time. It eliminates bulky, dated reports with its fast, intuitive dashboard.

Zero Impact

The cloud-native CrowdStrike Falcon® platform and single lightweight agent collect data once and reuse it many times. As a result, Spotlight requires no additional agents, hardware, scanners or credentials — simply turn on and go.
Technical Features
Comprehensive Visibility Without the Burden
Vulnerability Assessment in Real Time
Continuously monitor the vulnerability status of all endpoints wherever they reside: on-premises, off-premises or in the cloud
Leave bulky legacy reports behind — Spotlight serves up vulnerability data in seconds via intuitive dashboards
The robust application programming interface (API) makes external integrations simple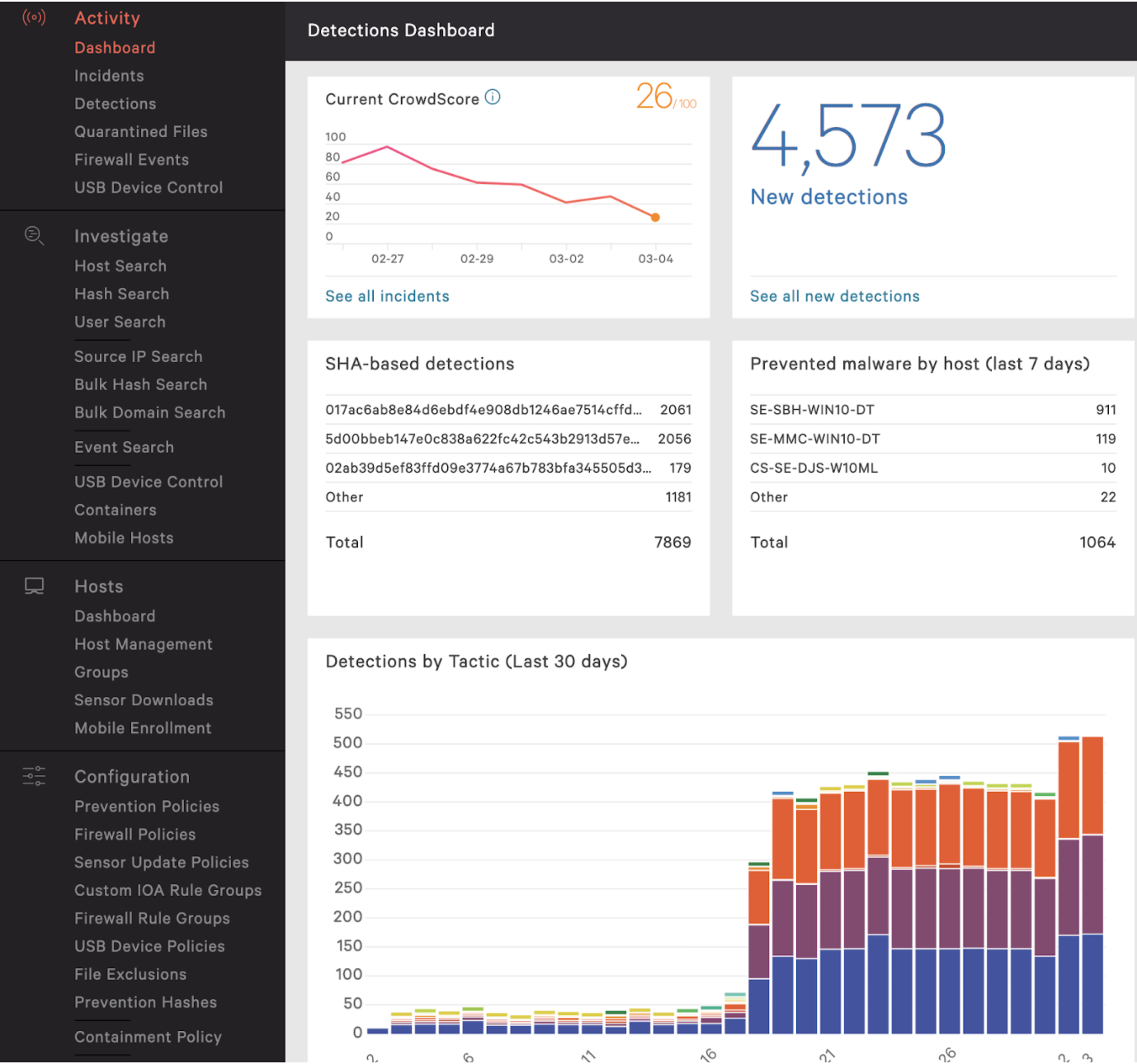 Scan-free and No New Agents
Continuous vulnerability assessment using CrowdStrike's single, lightweight Falcon agent
No scanning overhead, no lag time for systems or endpoints
No hardware appliances or infrastructure required
Works seamlessly with other security tools in your vulnerability solution set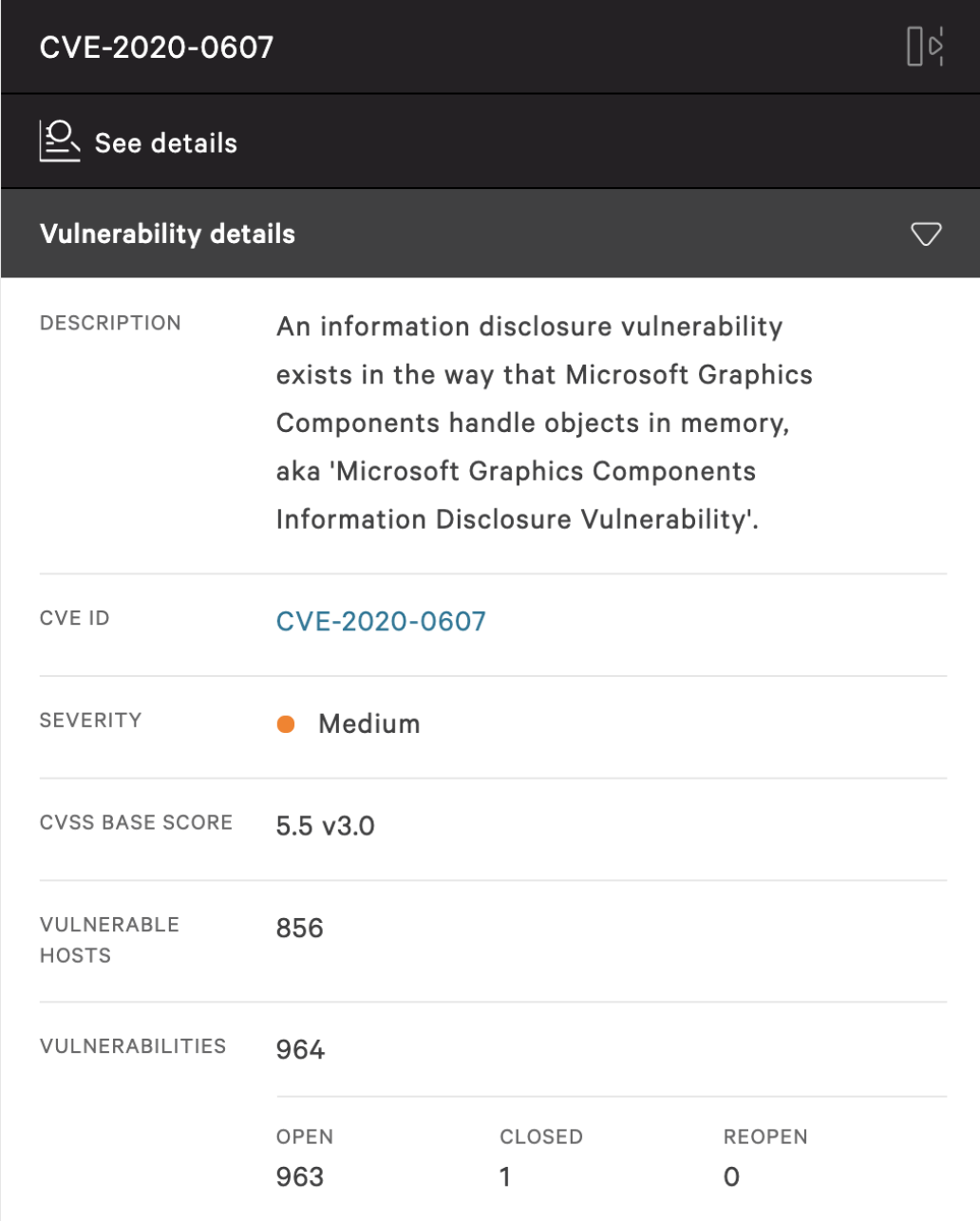 Shorten Response Time with At-Your-Fingertips Endpoint Data
See everything instantly: Go beyond the dashboard to research in real time or historically, get instant results on any type of vulnerability and filter by CVE, host, product, status and other categories
Pivot quickly from Spotlight to other Falcon modules to get contextual information about threat actors or potential targeted attacks
Utilize the full CrowdStrike Falcon® platform to actively monitor all endpoints, detect any incident, investigate and remediate quickly
Technical Center
For technical information on the installation and policy configuration of Falcon Spotlight, please visit the CrowdStrike Tech Center.
Getting Started with Falcon Spotlight
Product Validation
Customers Trust CrowdStrike
Third-Party Validation
Since 2016, CrowdStrike has demonstrated a strong commitment to continuous industry collaboration, scrutiny, and testing. Time and time again, CrowdStrike has been independently certified to replace legacy solutions.
Positioned as a Leader

Download this complimentary report to learn the analysis behind CrowdStrike's positioning as a Leader and what we believe it could mean for your organization's cybersecurity posture.

Named a Leader

Read this critical report to learn why CrowdStrike was named a "Leader" in the 2019 Forrester Wave with the top ranking in strategy and high scores in 17 criteria.

HIGHEST SCORE FOR TYPE A

Learn why CrowdStrike scores highest overall out of 20 vendors for use case Type A or "forward leaning" organizations.
Visit our third-party evaluations page to see how CrowdStrike performed against the industry's most rigorous tests and trials.
Purchase Falcon Prevent as a Part of a Bundle
Our bundles are specifically tailored to meet a wide range of endpoint security needs.
Explore the Bundles